5 upcoming Indigenous art fairs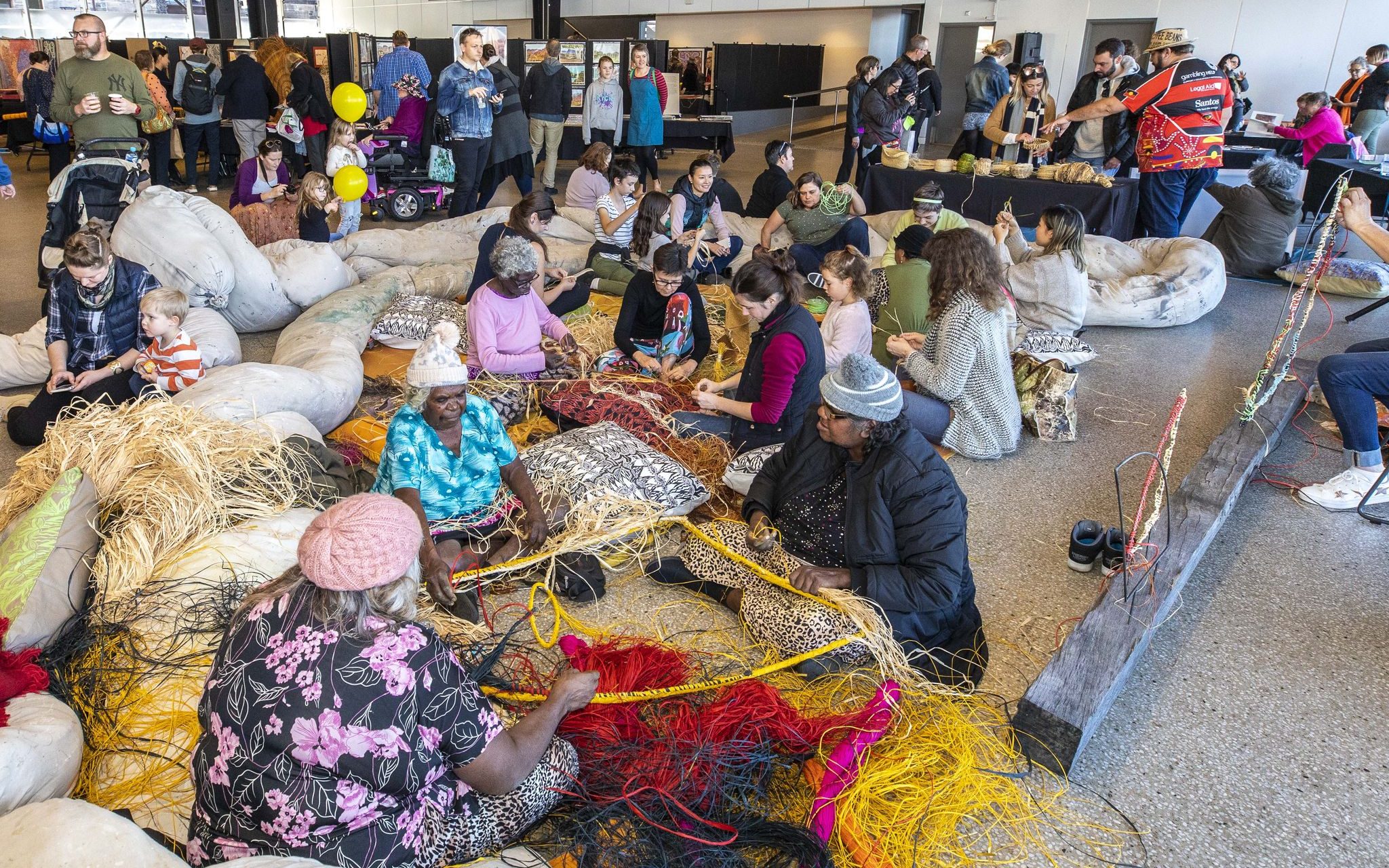 Indigenous art fairs are an invaluable platform for showcasing a wide range of First Nations artists and supporting their practices and communities.
With a handful of art fairs coming online and in person, there are plenty of opportunities to participate and discover artistic talent or your next favorite fireplace piece.
Marking the start of NAIDOC Week 2022, the third annual NIAF Art Market showcases creations from First Nations artists, designers and makers. Held at the Overseas Passenger Terminal, the event will be filled with art, performances, panel discussions, as well as bush cooking and a community weaving circle.
90 art centers from the Northern Territory, South Australia and Western Australia will participate in this year's NIAF, including Warmun Art Centre, Bábbarra Women's Centre, Keringe Arts, APY Art Center Collective, Arts Ceduna and many others.
On July 3 at 2:30 p.m. there will be a panel discussion on the NAIDOC Week 2022 theme "Arise! Rise! To arrive!'.
All proceeds go to First Nations artists and communities; Entry via gold coin donation for First Hand Solutions' Aboriginal Youth Program. Find out how you can participate.
Presenting its largest iteration ever at the newly refurbished Cairns Convention Centre, CIAF is making a physical return with its signature art market alongside satellite programming.
Highlights of this year's edition include Big Sculpture's inaugural showcase, CIAF fashion symposium and performance, with the full program recently announced to feature works by approximately 300 visual artists and 150 performers.
The 2022 theme, Masters of Country, will provide a platform for Indigenous artists, arts professionals and scholars across Queensland to discuss key issues and share their artistic practice with live audiences.
The CIAF Art Awards will also be presented at the fair with a prize pool of $50,000. The winners will be announced during the opening celebrations on July 6.
Two special performances, Aboriginal Comedy Allstars and Music in the Tank, will see talents such as Miiesha and Frank Yamma take the stage. See the complete CIAF 2022 program.
Australia's largest Indigenous art fair, DAAF returns both in person at the Darwin Convention Center on Larrakia Country and online this year, again hosting over 70 Indigenous-owned art centres.
Committed to ensuring that 100% of sales go back to supporting artists and communities, DAAF is free to attend and takes no commission on works sold during the fair.
An initiative of the Darwin Aboriginal Art Fair Foundation, the 2022 Fashion Showcase From country to couture will feature two different shows with 18 collections on August 2, followed by the National Indigenous Fashion Awards on August 3.
Lily: Reflecting the Voices of Australian Fashion
Public programs include artist masterclasses, workshops, lectures and cultural performances, with the full program to be announced in mid-June.
A large affordable art market, Desart Mob MarketPlace brings together paintings, punu, ceramics, Tjanpi weavings, carvings, clothing, jewellery, textiles and homewares from Aboriginal owned art centers across central Australia.
Desart is the main arts body for Aboriginal Arts and Crafts Centers in Central Australia with over 30 members.
Held over a single day at the Araluen Arts Centre, visitors can purchase works directly from members of the Desart Arts Center and invest in the careers of Indigenous artists and arts workers. The goal is to support these art centers to achieve self-reliance, sustained growth and stability as well as support the next generations of artists on Country.
Additionally, Desert Mob 2022 will host programs throughout September, including On-Screen Art Centers from September 1-7 and the Desert Mob Exhibit which opens September 8 and features hundreds of artists. innovative works.
Usually held in November over 10 days, the AIATSIS Indigenous Art Market has expanded its audience beyond the Canberra area since hosting the annual online event in 2020. In 2021, the art achieved record sales of over $574,000 with over 1,000 First Nations artists and 4,000 works.
100% of sales returned to Indigenous arts centers, artists and their communities, with 35 Indigenous arts centers and independent artists participating in the 2021 iteration.
Working with DAAF on the success of its online platform, the digital edition is set to be held alongside a physical fair this year, with dates to be confirmed.
Lily: 2022 First Nations Arts Calendar