Annie Rijks-Flora – The Crested Mound News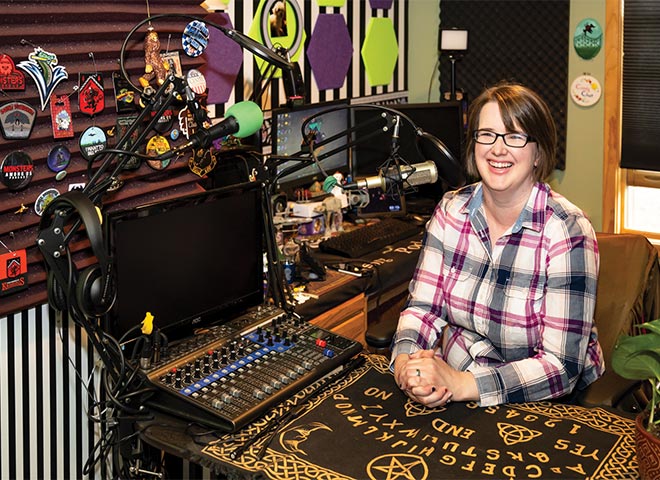 [  By Dawne Belloise  ]
Annie Rijks-Flora spent the first decade of her life growing up bilingual in Steinbach, Germany. One of four children born to Teresa and Jozef Rijks, they spoke English at home, as it was easier for his American mother, and German at school and socially. In her European childhood, they played football in the streets and ate spaghetti "eis," German ice cream pressed in a spaghetti-string machine, which she says made it deliciously airy and light. "I was a happy child. My siblings are awesome and I love my family. We had a lot of fun growing up together," she says.
She was 10 when her parents decided to move the family across the Atlantic and up the mountains to Crested Butte in 1993. Annie's mother, from La Junta, Colorado, followed her sister, Donna Rozman, to CB. "Dad had a stressful job in Germany and was looking for a career change, so when Susan Anderton's gallery came up for sale, they bought it," Annie says of her parents' acquisition of the gallery. art they call Rijk's Family Gallery. Starting fifth grade in a new country was a bit of a culture shock for her, but what impressed her the most was having a locker at school. "I had only seen them on television," she thought to herself. "They had some for older school children in Germany, otherwise you carried everything in your backpack in primary school. I thought three months of summer vacation was the coolest thing ever, because we only had six weeks of vacation in Germany.
"I was trying to get into mountain biking, but I really got into hiking," she says. "My parents always had activities planned for us, they kept us busy."
Annie easily made friends there. "I had a really wonderful group of friends growing up and it was great to have siblings and cousins ​​here. I tried to be a super athletic kid growing up because everyone I joined the nordic ski team in college, but I had never ridden skis and all these kids grew up on skis. was fun, but I was not in the same frame of mind as my friends whose every spare moment was spent skiing. I kept trying to be a sporty kid, I was part of the team basketball for three years, volleyball and Nordic skiing, but I discovered theater when I was in high school. I found the place that made sense for me, where I fit in more, where I wasn't constantly the weakest link," she jokes. "At the Mountain Theater, I auditioned for anything and everything, but the show I remember the most was Hamlet, primarily an all-female high school production with Teens On Stage. I played Polonius," she says, and after that she was hooked. "The theater has become my favorite place," she says. Annie graduated in 2000.
Knowing that acting was a difficult industry to break into and earn a living, Annie took a year off after high school. "I didn't know if I really liked theater or just CB Theatre." She was accepted as an apprentice at the prestigious Dallas Theater Center, working in all the different departments to gain maximum experience, from the prop and costume shop to working on sets and sound and lights, learning all aspects of theatre. She has also done stage acting.
After her gap year, Annie enrolled in Santa Fe College and majored in theater with a minor in film. She had taken Soo Bahk Do in high school and taught it in college. Annie was part of the campus sketch troupe, where actors write and perform their own comedic material. "We had sold out shows and it was a fun group to be a part of. We were called Underwear Society. I think I've always been better at comedy, or always drawn to comedy.
She graduated in 2006, and Annie and another friend from the comedy troupe decided to move to Chicago. "Most people move to New York or Los Angeles and we decided we liked Chicago. It's a dog town, you see a lot of people with dogs. I had a dog called Juno, he was the best black Labrador. Coming from CB, Chicago felt less overwhelming," she says of other cities. She was hired at the Goodman Theater to lead the team and help behind the scenes. "I could have stayed there to make the racing team forever, but I couldn't play and I wanted to audition for stuff. I could be a waitress or do some acting so I could do more acting. She found herself as a full-time stock trader in the back office, "It's basically data entry because I'm not a financial adviser."
While working, she took evening classes at the Second City Conservatory. "One of the big improv theaters in Chicago is Comedy Sportz, so I started performing there and got hired on the main stage as a comedy performer," Annie explains. She was also part of Team Harold, which is a long-running improv troupe. "I was performing at many comedy clubs throughout Chicago and the suburbs." She met her husband David Flora in 2007 through Second City when they appeared on a few shows together. They got married in 2016.
Annie's only goal was to quit her day job. "My co-workers said I wasn't a real artist until I didn't need my day job. I got to a point where I could actually become a full-time artist, but then I thought I didn't want to stop. I liked my job and the people I worked with and I had insurance. I decided that I didn't want to quit just for the sake of quitting. I loved doing both acting and my day job," she says.
Annie and her husband decided to start podcasting together and in 2019 created Quiz Quiz Bang Bang, a trivia podcast. Although she is performing less and less, she says, "I had podcasts, so I felt like I always had a creative outlet. We had patrons and it brought us revenue through our podcasts. With podcasts you don't get the same feel and energy as on stage, but people tell us how it helped them through a tough time. It gave them something to do during the COVID lockdown," she says of the global podcast which also held Zoom meetings around the world.
She and David had been talking about moving for a few years as they were ready for the next chapter when COVID hit. "Because we were no longer tied to the scenes through our podcasting, we could work from anywhere. So I convinced David to switch to CB. I wanted to be close to my family again," says Annie.
They moved in February 2021, in the midst of COVID. "What a great place to be during lockdown. Even when the closures were lifted it was a better and safer place. My older sister Mamie came back from Munich six months after my return and my brother Robby was already back," she explains.
Annie still has her day job in Chicago. "It will never go away," she laughs. "We continue to podcast our trivia show and David has a paranormal podcast called Blurry Photos." The Arts Center hired them to do live quizzes on occasion. They recently made a plus for the Save the Majestic team with all the trivial questions related to the movie. Annie is also a member of the CB Mountain Theater Board of Directors, "It's very exciting, we just hired Alec Lindeman as our new Executive Director."
Although Annie is not on stage yet, she hopes to star in something one day. Regarding her aspirations for the CB Mountain Theatre, she says, "I really hope we can reach out to the community to let everyone know they are welcome, interested in the theatre, technology or the bartender and want to feel a part of that, even as an audience member, that the Mountain Theater is a fun, welcoming and special place. She was an improv coach with Subject to Change, the theater's improv troupe. "If they're short on artists, I'll play with them, but I want them to have as much stage time as possible," she says.
Being back in her community meant everything to Annie. "I love being close to my family on a regular basis, it's such a treat to be able to spontaneously walk the dog at Peanut Lake with my mom. You can't beat the views here, the wildlife and the hiking…it's all breathtaking. breath-taking and inspiring and awe-inspiring," she says. "And my best childhood friends still live here.