award-winning comedy, "Kamloopa: An Indigenous Matriarch Story" debuts in the US with WAM Theater | Arts-theater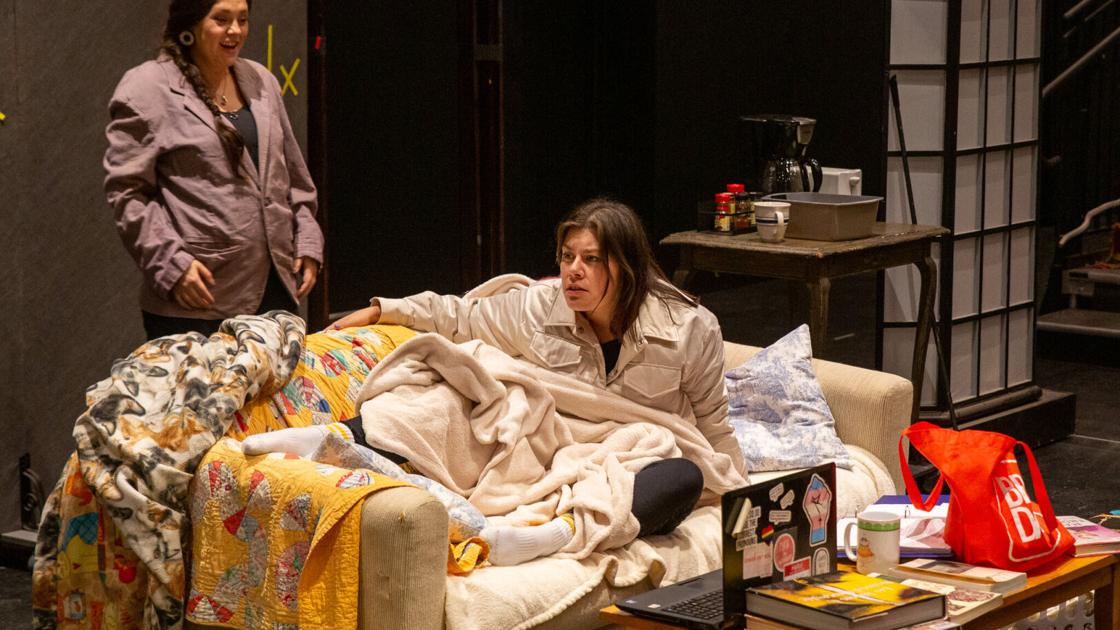 LENOX – Heritage invites you to "Kamloopa: An Indigenous Matriarch Story", an award-winning comedy by Kim Senklip Harvey about three young urban Indigenous women – including two sisters – in search of what it really means to be Indigenous.
WAM Theater production begins October 7 at Shakespeare & Company's Elayne P. Bernstein Theater, where it is scheduled to run Thursday through Sunday through October 24. The show will then be available for digital streaming from November 1-7.
The WAM Theater donates a portion of the profits from "Kamloopa" to the "Women's and Girls' Initiatives of the Cultural Affairs Office of the Stockbridge-Munsee Band of Mohican Indians, on whose lands WAM lives and works," said WAM in a press release.
Canadian actor, director and playwright, Harvey is a member of the Syilx and Tsilhqot'in Nations with ancestral ties to the Dakelh, Secwepemc and Ktunaxa communities. In May 2021, she became the first Indigenous playwright to win the Governor General's Literary Award for Theater (English Language).
"Kamloopa" was first performed in early fall 2018 by The Cultch at its Vancouver, BC theater in conjunction with four other theaters, and the Pacific Association of First Nations Women and Bill Reid. Gallery of Northwest Coast Art in Vancouver. The WAM production is the US premiere of "Kamloopa's".
"Kamloopa" takes its title from the annual summer powwow in Kamloops, British Columbia, Canada. It is considered the largest powwow on the west coast. In Harvey's play, it is the destination of two sisters, Mikaya (played by Ria Nez) and her older sister, Kilawna (Sarah B. Dennison), who are convinced by Indian friend n ° 1- Newcomer Edith (Jasmine Rochelle Goodspeed) to take the trip to Kamloops from their two-bedroom apartment in East Vancouver and connect with their Indigenous heritage that is manifested throughout the piece in the form of shapeshifters – described by Harvey as "animals that can travel between all worlds… visible and present to those who are open to seeing them; And ancestral matriarchs – past, present and future.
Harvey describes "Kamloopa" as a story of transformation, "an offer for all of us to be bold and passionate about having the courage to become fully ourselves".
The feeling throughout is festive.
"It's like a dance party," said WAM artistic director and producer Kristen van Ginhoven. " It's really funny ; such a relief to be able to laugh and appreciate these characters. Life is so difficult now.
Series director Estefania Fadul was struck by the play's sense of fun and joy when she first read it.
"It takes three women on personal journeys. We have three-dimensional characters, full humans, "Fadul said in a telephone interview to which she was joined by Nez and van Ginhoven.
"And we have these three worlds – the shapeshifters, ancestral matriarchs and young urban women growing up in this world. We take the time to think about what this means.
Mikaya, the younger of the two sisters, is receptive to the idea of ​​going to the powwow.
"Mikaya wants to find out what it really means to be Indigenous," said Nez, who is Indigenous and acknowledges that working on this piece has helped her own journey.
"There is a lost connection to his legacy that (Mikaya) is determined to find," Nez said. "She is impatient; have fun with (the prospect of this trip).
It is important Mikaya that the reluctant Kilawna comes, Nez said. Mikaya looks at Kilawna. At the same time, said Nez, "It is important to Mikaya that Kilawna recognizes her and, in the process, recognizes and connects with their common heritage. "Maybe Kilawna is a bit lost."
"Kamloopa" has its share of mountains to climb for its director and its actors. For starters, there are the production design elements. "It's important to let our audience feel what these worlds are," Fadul said.
Then, in addition to their "real world" characters, the actors of "Kamloopa" are invited to give shape to the shapeshifters and ancestral matriarchs who enter and leave the world in which their characters live. It's intensely physical.
"I discovered how much work and complexity it takes to play all of these (elements) together," Nez said. "It's so rich. There is a piece of me in everyone.
In addition to the physical requirements, there are language requirements. Some of the play's dialogues are presented in the indigenous language of the Syilx people.
Fadul has worked closely with WAM playwright Tatiana Godfrey and cultural consultant Maynard McRae, Jr. Additionally, Fadul, who has been involved with "Kamloopa" since March, took her own research dive and tried to find means, as a non-native woman, to establish her own personal connections with the world of "Kamloopa".
Nez hopes that audiences will come out of "Kamloopa" with a greater appreciation of the commonalities, rather than the differences, between Indigenous and non-Indigenous peoples.
"Anyone can understand the desire to fit in, to belong," said van Ginhoven.
"It's part of the human experience, this journey of three women coming into their power," Fadul said. "It's a happy, funny story with so much heart. "