Bloods back for series 3 on Sky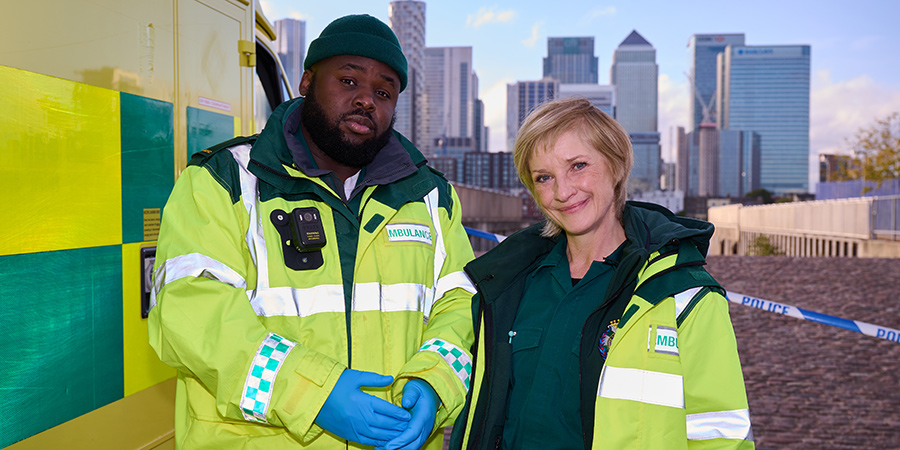 Bloods. Picture shows from left to right: Maleek (Samson Kayo), Wendy (Jane Horrocks)
Bloods returns to Sky for a third series, which British Comedy Guide can exclusively reveal.
The paramedic sitcom's second series only ended on Sky Comedy last month after episodes were split in half between spring and autumn broadcasts. However, a writers room was convened for more episodes earlier this year.
Nominated for Best Comedy at the International Rose d'Or Awards, announced next month, the sitcom stars co-creators Samson Kayo and Jane Horrocks.
With a supporting cast of Julian Barratt, Motherland star Lucy Punch, Edinburgh Comedy Award winner Sam Campbell, Ellie White and Newark, Newark creator Nathan Foad, plus Adrian Scarborough, Aasiya Shah and Kevin Garry, Bloods has so far been written almost exclusively by Kayo's co-creator Nathan Bryon and Paul Doolan.
Focusing on swaggering but insecure Maleek (Kayo)'s partnership with overly friendly Northern divorcee Wendy (Horrocks) as they witness an endless succession of 999 calls, series two ended with the Scarborough character Gary in critical but stable condition after collapsing at Darrell's (Campbell) 'going away party', despite the latter being allowed to stay in the UK.
Produced by Roughcut (People Just Do Nothing, Stath Lets Flats), critics gave it a mixed response, with the Independent hailing it as "a wonderful paramedic comedy full of gallows humor", the Observer deciding that "it works somewhat like a comedy, if it's softer than noticeably darker" and The Guardian felt it had "a charm and warmth which, with a little punch to the script, could make it something worth well 22 weekly minutes of your time".
Meanwhile, Bryon's directorial debut, Rye Lane, is set to hit theaters and on Disney+ internationally soon.
As British Comedy Guide first revealed last year, when the romantic comedy had the working title Vibes and stuffBryon and his regular collaborator Tom Melia wrote the screenplay for the film, which is about meeting the right person at the worst possible time and stars Vivian Oparah (Enterprice) and David Jonsson (Industry).
Produced by BBC Films, the BFI and Fox Searchlight, with DJ Films and Turnover Films, Rye Lane, and named after the eponymous street in the "Little Lagos" area of ​​Peckham, London, Rye Lane is also the director's first feature film. director Raine Allen-Meunier.