Comedian Marc Maron brings his number to Carmel to find humor in the most difficult and pressing issues of our time. | Face to face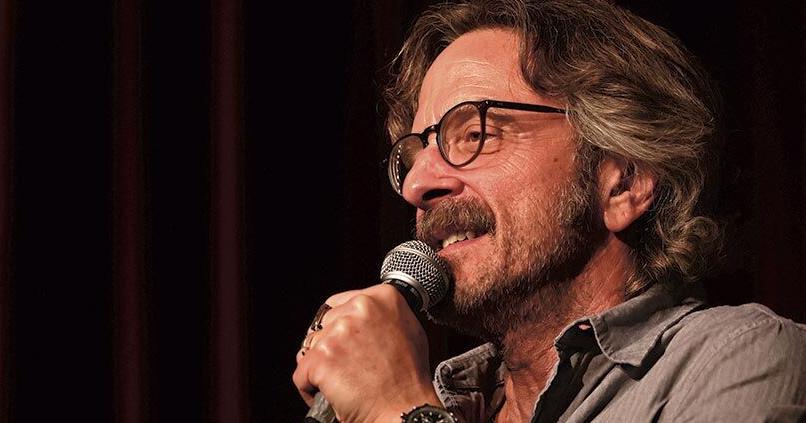 Marc Maron is a self-proclaimed "mid-level celebrity". He's been in stand-up comedy since the 1980s, he's appeared in movies and on TV. During a stint in the 2000s, he hosted a radio show on Air Americawho attempted to be a comedic, left-wing foil to right-wing domination of the political airwaves, and in 2009 – long before it was cool – he started a podcast, WTF with Marc Maronin which he maintains free conversations with personalities often more famous than him: Barack Obama, Brad Pitt, Robin Williams, the list is long.
Maron also has a few comedy specials to his name, and he's currently honing over 90 minutes of material down to an hour for an upcoming HBO special shoot in December.
Maron's comedic style is conversational and he doesn't shy away from tackling highly charged topics, political or otherwise. He dives straight in to try to make sense of it all, and uses comedy as a way to achieve some kind of peace with the world. Maron's acts tend to have a prophetic quality, and his latest comedy special, End times funairing on Netflix in February 2020.
For his followers, Maron is an icon. It says out loud what many people think, but may be hesitant to struggle with. "I don't know if I'm going to sell tickets with this interview," he notes. Speaking about a script he and his writing partner sold to FX, Maron explains that a producer who had read the script said, "'Hey look guys, this is awesome. I don't have specific notes, but is there a way to go from dark to dark? »
Weekly: End Times Fun fell just before the world was turned upside down. Do you take any responsibility?
Maron: I don't think I mentioned the virus so I can't be connected. But I think the overall tone, and certainly in terms of the climate, the GOP, and fascism, I think there was a lot in there that felt a little prescient. I don't know how it happened, it was just what was going through my head.
In that special, you made a joke about not knowing if Trump would peacefully leave the White House if he lost the election. How have you dealt with what has happened since?
I was just very specific and careful to recognize that we are dealing with quite a brazen and organized fascism that is sort of multi-pronged and multi-faceted. It's just this weird mix of advanced capitalism and economic policy, things are going exactly the way capitalism planned, and now things are going exactly the way the radical Christians planned, and this kind of meshing with a single, direct party… to govern populism. It's just a perfect storm of the worst kind. That's how I feel, that next to the climate, next to me aging, it's kind of in the mix. I just lean in and find some humor in the truth, but I have no forecast, and I don't know what lies ahead. But I know the markers of what we're in, and I can't say I wake up thinking it's gonna be okay, ever. And now the water thing, I'm obsessed with lack of water. I was just in Colorado and thanked them and told them to turn the tap back on.
You live in Los Angeles but are in Canada right now, and you said you might want to move?
It's just an active fantasy. When I'm here, a lot of what's in the cultural environment [in the U.S.] – that being dark, hostile, hostile and destabilizing – it just isn't here. I don't feel it here. I used to think it was boring, but now I'm like, "Well, maybe I'm ready for this." People seem more grounded, more tolerant, and maybe I'm generalizing, maybe I'm romanticizing, but I just know it all falls on my back when I step off a plane in this country. I do not know why.
I don't have plans – I'm not a great planner. I'm just looking for a peace that I would like to experience before I die or before the world dies.
How would you define your comedy brand?
Everyone knows we're struggling on many of the fronts I'm talking about. This apprehension, this fear, not knowing what to do about it, feeling a little helpless, and maybe if you're hypersensitive and deeply liberal, you're going to blame yourself for that. In this zone of fear and self-judgment come amazing possibilities for humor. And that's where I live, that's what I do.
MARK BROWN occurs at 8 p.m. on Friday, October 7. Sunset Center, Carmel. $55 to $99. 620-2048, sunsetcenter.org