COMMUNITY REGISTRATIONS: June 12 to 26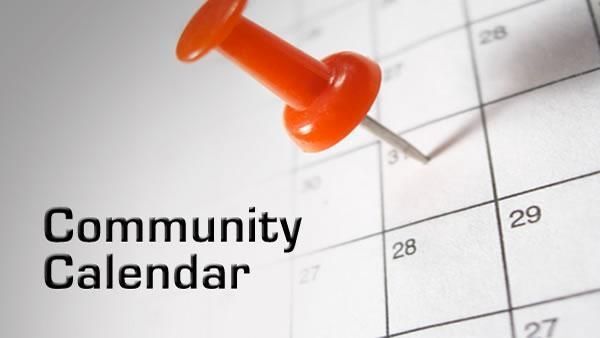 Content of the article
If you would like your community event to appear in our announcement calendar, please email details at least one week in advance to: [email protected] Publicized events must be open to the public.
Content of the article
Sunday June 12
CRAFTS MARKET/VENDOR: Spring into Summer Craft and Vendor Market at the Shady Nook Rec Center, 80 Richardson Crescent. June 12 from 10 a.m. to 4 p.m.
RECOGNITION CEREMONY: Calvin and Wesley United Churches of Pembroke, in partnership with the City of Pembroke, are hosting a recognition ceremony to thank all essential workers in the community. The ceremony is scheduled for Sunday, June 12 at 1 p.m. and will take place at the Pembroke Waterfront Amphitheatre. The community is invited to come and say thank you to the essential workers for their services.
Wednesday June 15
CULTURE CONNECT BOOK BINGO: A fun way to challenge young readers (and up) to engage; Plus, you can choose your bingo trip from the 25 invites on the Culture Connect Book Bingo Reading Challenge Card by June 30. Participating Libraries: Deep River Public Library; Laurentian Hills Library – Chalk River Branch and Point Alexander Branch; Petawawa Public Library. Learn more https://liplanarkrenfrew.ca/events
WELCOME ROCK PAINTING – DEEP RIVER PUBLIC LIBRARY: The idea behind these Welcome Rocks is that community members can decorate them in your library and place them in places others can find as a welcome to our community gesture. Until June 30 or while supplies last. Learn more https://liplanarkrenfrew.ca/events
COMMUNITY READING EVENT: Join us for this guided yet relaxed adventure into stories (memoir and fiction) of intersecting cultures. Books about leaving and arriving, about being deep in a culture and on the periphery, about feeling at home and in between. Participants in the Culture Connect Community Reads event can choose from the list of books offered (or choose their own in the theme) with the support of participating libraries. The activity will conclude with a virtual community reading event meeting on June 29 to discuss common themes, explore cross-cultural experiences, and contribute to a community discussion. Learn more https://liplanarkrenfrew.ca/events
Content of the article
YOGA IN THE PARK: Yoga in the Park with White Pine Yoga will take place at the Pembroke Waterfront every Wednesday in June, July and August from 6-7 p.m.
Thursday June 16
WHAT DOES IT MEAN TO BE TWO-SPIRITED? : Have you ever heard the term "Two-Spirit" or "Indigiqueer" and wondered what they mean? Join community leaders Duane Gaston' Aucoin and Julianna Morin on June 16, 5-6 p.m. at Janna and Kerry's Over Easy Bar and Grill for an intimate and candid evening of knowledge sharing to learn more about what it means being Two-Spirit and Indigiqueer within certain Indigenous communities, encompassing cultural, spiritual, sexual and gender identity. Learn more https://liplanarkrenfrew.ca/events
friday june 17
WATERFRONT LIVE! : Live waterfront! and its great lineup of local artists kicks off June 17. Listen to music and take in the scenery of Waterfront Park at the Riverwalk Amphitheater every night at 7 p.m.
MAGIC THE GATHERING GAME NIGHT: Hosted by Looking Glass Toys and Games at 3025 Petawawa Boulevard (near Starbucks). 7:00 p.m. to 10:00 p.m. This is a casual meet, greet and play. Admission is free. Just bring your decks and meet people! Get to know the Looking Glass MTG community! New players are always welcome!
Saturday June 18
GIANT PEMBROKE PUBLIC LIBRARY BOOK SALE: Join the Pembroke Public Library on Saturday, June 18 from 9 a.m. to 2:30 p.m. for a giant book sale! This event will take place rain or shine! All proceeds from this book sale will go to the Pembroke Public Library's Local History Project.
Content of the article
HEARTBEAT AND MUSIC FESTIVAL SELLER: Heartbeat and Music Festival seller. On June 18 at the Pembroke Waterfront, kick off the summer season with the sights and sounds of local Ottawa Valley vendors, musicians and artists.
Monday, June 20
NATIVE COMEDY SHOW "GOT LAND": Led by the Algonquin Student Association Pembroke, Got Land? The Indigenous Comedy Show is a comedy variety show where First Nations, Inuit and Métis performers tell jokes and share individual life stories on June 20, 5-6 p.m., Algonquin College, Pembroke Campus . Learn more https://liplanarkrenfrew.ca/events
GUEST SPEAKER ON SUSTAINABLE FOOD SOURCES: The Eganville and Area Horticultural Society welcomes biologist, researcher and professor Kathryn Lindsay on Monday, June 20 at 7 p.m. to the Royal Canadian Legion on Veterans Way in Eganville. Dr Lindsay will present "Adapting the way we grow food to our changing climate" – despite drought, floods, new pests and extreme weather, we can find new sustainable food sources for the future. 7:00 p.m. social time, 7:30 p.m. start of meeting. Please bring your own refreshments. Open to everyone. Info at [email protected] Visit: gardenontario.org and facebook.com/eganvillehort
Tuesday, June 21
NATIONAL ABORIGINAL PEOPLES DAY: In Pembroke, you can take part in a range of activities at Rotary Park beginning at 11 a.m. Today is a great opportunity to take the time to recognize the rich history, heritage, resilience and diversity of First Nations, Inuit and Métis across Canada. This event is organized by the Anishaanabe Cultural Circle, Renfrew County and District Aboriginal Friendship Center and Family and Children's Services of Renfrew County.
Content of the article
Thursday June 23
MIDDLE EAST CANE DANCE LESSON: Join us on June 23, 6-8 p.m., when dance enthusiast and community leader Suli Adams takes you through the journey to Cane Dance in Egypt. Our dance lesson will take place at the Algonquin College Gymnasium – Pembroke Campus. Learn more https://liplanarkrenfrew.ca/events
friday june 24
DISCOVER THE GREATNESS WITHIN: Organized by life and wellness coaches, Trudy Driscoll and Jacinda Keronga, in support of the 100 Women campaign to raise funds to help women/children initiatives in the area. 6:30 p.m. – 9 p.m. at the Germania Club (doors open at 5:30 p.m.). Come and be inspired by these two dynamic speakers. For more information https://linktr.ee/inspiringwomentobemore
Saturday June 25
ANNUAL BOOK SALE: The Eganville and Area Horticultural Society is hosting its annual book sale on Saturday, June 25 at a new location – The Old Fire Hall at 165 John St. in Eganville, across from The Eganville Leader office. Fiction, non-fiction, biographies, cookbooks, mysteries, classics, books for children and teens… find your favourites! Donations are welcome and appreciated PRIOR to sale day. Call 613-628-2401 to schedule drop off at our temporary warehouse and for directions. No moldy magazines, manuals, encyclopedias or books.
Sunday June 26
BATTLE OF THE BATS – WHERE LOVE OF CRICKET MEETS PASSION FOR SOFTBALL: Join us on June 26, from 11 a.m. to 3 p.m., for Battle of the Bats when the Ottawa Tuskers Cricket Club challenges a local softball team to a back-to-back friendly match of cricket followed by softball. Bring the whole family to Petawawa and watch the Ottawa Tuskers cricket team take on the PSP softball team as they teach each other their favorite sport. After a few tutorials, it's time to play! We will have a softball match and a cricket match. Don't miss the biggest mash-up of this year! Learn more https://liplanarkrenfrew.ca/events