Enjoy a night of laughter and connection at the Washington Center for the Performing Arts with the "Some Stars of Native Comedy" stand-up show, featuring four Native American comedy storytellers
Jhe Washington Center for the Performing Arts has partnered with Indigenous Performance Productions to advance Indigenous arts equity by supporting and promoting Indigenous arts and artists. The Washington Center presents its new production "Some Stars of Native American Comedy," where four unique Native American comedy storytellers will take the stage for a night of delicious and hilarious stand-up comedy, full of passion and heart. The show will take place on Saturday, November 5 at 7:30 p.m., so be sure to buy your tickets now to reserve your spot!
Discover Indigenous arts at the Washington Center
As we continue to emerge from the pandemic, The Washington Center is excited to support and promote the return of in-person events. They slowly built their event lineup to feature a range of shows and recognize the unique impact of live comedy in the mix. "At the end of the day, comedy is about connection," shares Jill Barnes, executive director of the Washington Center for Performing Arts. "It's a common thing to laugh in a room of strangers, and it's a great stress reliever and an opportunity to cast off problems and live in the moment." The Washington Center strives to create a space for a wide range of artists to show their work. To do this, they proudly work alongside many organizations with a similar mission, such as Indigenous Performance Productions. Their mission is to focus on Indigenous performance and art to finally tell their stories in their own way.
"For the vast majority of United States history, these stories were not told by Native Americans," shares Andre Bouchard, executive producer of Indigenous Performance Productions. "We can look at the timeline of Indigenous communities and see all of this Indigenous theatre, dance, comedy and music. Indigenous culture has been dynamic through all of this, so of course there would be an emergence. Now, all you need is the resources and the education to break into these professions. Andre is deeply passionate about finding ways to promote and uplift Native American artists, and sees the potential for greater representation of Indigenous peoples on stage and on screens.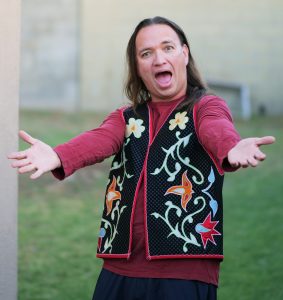 The Washington Center proudly supports this same intention with the vision of connection not only between them but between cultures. "At the end of the day, no matter how different segments of the population may be, we're all human and there are more similarities than differences between us," says Jill. "Comedy helps build that bridge to understanding different cultures or ideas. It's a way to challenge norms and misconceptions, solve problems and explore ideas in unconventional ways, and can change what we think and maybe even what we do. Representing all cultures on stage is extremely vital to The Washington Center, which is why they are honored to be a part of the growing opportunities for Indigenous artists to be at the forefront. foreground to share their stories and culture with the world.
The Washington Center has hosted many native artists and performances. Beginning in 2020 with Anthony Hudson's "Looking for Tiger Lily", "Welcome to Indian Country" in 2021 and The Julia Keefe Indigenous Big Band in 2022. Performances this season include "The Aunties: Women of the Salish Sea" and the upcoming "Some Stars of Native Comedy" stand-tour. The Washington Center and Indigenous Performance Productions look forward to providing our local Indigenous artists with the opportunity to continue to step into the spotlight to showcase their unique talents.
An exceptional line-up of Native American comedians
This tour will feature an incredible lineup of 4 veteran stand-up comedians who are extremely passionate about their craft and ready to take the stage to tell their stories like never before. Jim Ruel, Gilbert Brown, Sheila Chalakee and Taietsarón:sere 'Tai' Leclaire will share their stories during a night full of laughter, wonder and insight into Indigenous life with a humorous lens.
Jim Ruel is a filmmaker and comedian who grew up in Milwaukee, Wisconsin as a member of the Bay Mills Band of Ojibwe. He has decades of comedy experience, including TV performances on Showtime's "The World Stands Up," "Goin Native: The American Indian Comedy Slam," and FNX's First Nations Comedy Experience. He currently works in film and media under Frybread Productions and is a co-host of the Hollywood NDNz podcast highlighting the careers of Native American entertainment professionals.
Gilbert Brown is a comedian and member of the Modoc, Klamath, Paiute and Warm Springs tribes. Nicknamed "The Naughty Rezdog", he uses a hilarious storytelling style to share humorous stories about his life, including tales of rodeos and life on the rez. Gilbert has been performing professionally since 2008 and hosts powwows across the NDN country.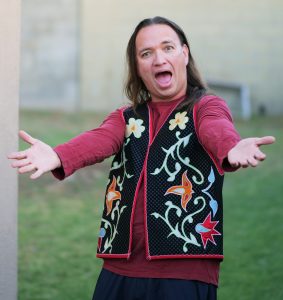 Sheila Chalakee is a registered citizen of Muscogee Creek Nation. Over the years, his work has been featured on PBS, WEtv, E! Network, Amazon Prime, Univision, and FNX and has performed sketch comedy, stand-up, theater, and improv across America. She was also the recipient of the SkinsFest TV Writers Fellowship in 2021 and received critical acclaim from the Chicago Reader, Huffington Post and Nylon Magazine.
Taietsarón:sere 'Tai' Leclaire is Kanien'kehá:ka (Mohawk) and Mi'kmaq from the Mohawk Territory of Kahnawà:ke. He was awarded the 2022 Sundance Institute Native Lab for his screenplay "How to Deal with Systemic Racism in the Afterlife," which also earned him the Blacklisted Indigenous List in partnership with Illuminatives and the Sundance Institute. He is a writer and actor on Peacock's "Rutherford Falls" and will make his directorial debut with his short film "Headdress," which will be released in 2023.
"Some Native Stars of Comedy" brings native comedy to the stage right here in Olympia with a hilarious lineup of native comics. This will be an evening of humor, insight and heart you won't want to miss! Buy your tickets online today!
Sponsored