Inside No. 9 to return for series 8 and 9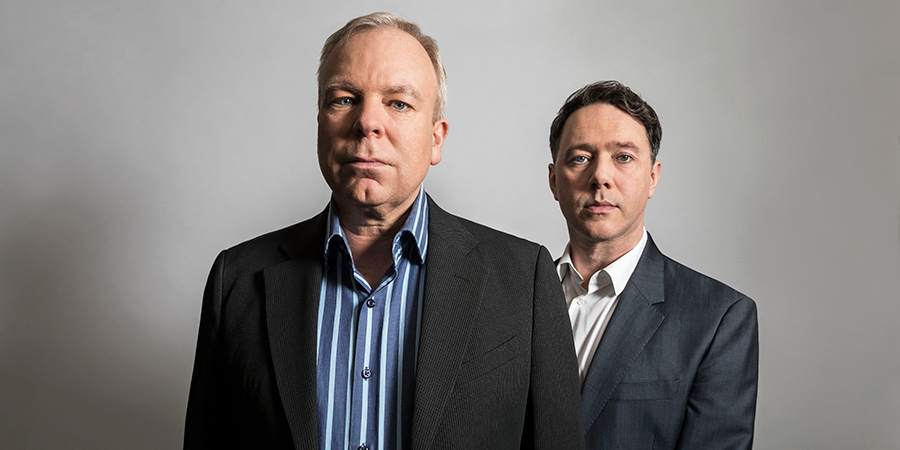 Inside No. 9 has been ordered for two more series…until series 9
Steve Pemberton and Reece Shearsmith will write and star in 12 more episodes of both series
They say, "What horrible surprises are left to uncover? We remain as excited and curious as you are to find out."
Inside No. 9. Image shows left to right: Steve Pemberton, Reece Shearsmith
The BBC has confirmed it has ordered two further series of Inside No. 9.
The recommission means Steve Pemberton and Reece Shearsmith's comedy anthology series will now run until at least Series 9.
The news was announced at the end of series 7 on BBC Two tonight (June 1).
Each of the two new series will feature a further six episodes, with – as before – each episode being separate from the last in addition to featuring the stars of The League Of Gentlemen on screen, set in or around something with the number nine, and containing a hidden hare statue.
The BBC says: "Series 8 and 9 will stay true to the show's anthology format, with each series containing six new half-hour films, each set in a different location. The style and tone changes each week, combining a different mix of horror, thriller, drama and comedy – always aiming to surprise, delight, irritate and amuse."
Commenting on the news of the recommission, Steve Pemberton and Reece Shearsmith said: "In the biggest plot twist, the BBC has commissioned two more series from us, bringing Inside No. 9 up to series 9. Since 2014, this is the best gift. to ward off those stories and we're thrilled there's still an appetite for more. What horrible surprises remain to be discovered? We remain as delighted and curious as you to find out.
Inside No. 9 has been voted Best TV Comedy Drama at the Comedy.co.uk Awards every year it aired and won Comedy of the Year twice.
Speaking about the format's success, the BBC explains: "Having launched in 2014, Inside No. 9 received widespread critical acclaim and won numerous accolades, including Best Scripted Comedy at the 2021 BAFTA TV Awards. Steve Pemberton received Best Male Performance in a Comedy Program at the 2019 BAFTA TV Awards and, enviably, the series won two BAFTA TV Craft Awards, two RTS Awards and many more."
Commissioner Seb Barwell comments: "We are doubly thrilled to announce two more series of the endlessly inventive Inside No. 9 and can't wait to find out where the colossal comedy masterminds of Reece and Steve take us next, in 12 brand new episodes. of a show now firmly established as an all-time great."
Josh Cole, the executive producer at BBC Studios who helms the show, adds: "Reece and Steve are extraordinary talents. Very few comedies reach nine series, and even fewer reach the breakneck heights of Inside No. 9. We're thrilled to make two more series of a true comedy classic."
The BBC has yet to give any indication as to when the new series will be filmed or aired, but BBC Two has largely aired a new series every year to date, suggesting series 8 will air in 2023 and the series 9 in 2024.
All 43 existing episodes of Inside No. 9 can be viewed on BBC iPlayer