Jo Koy's "Easter Sunday" Magnifies the Sacredness of Tradition, Family and Catholicism in Filipino Culture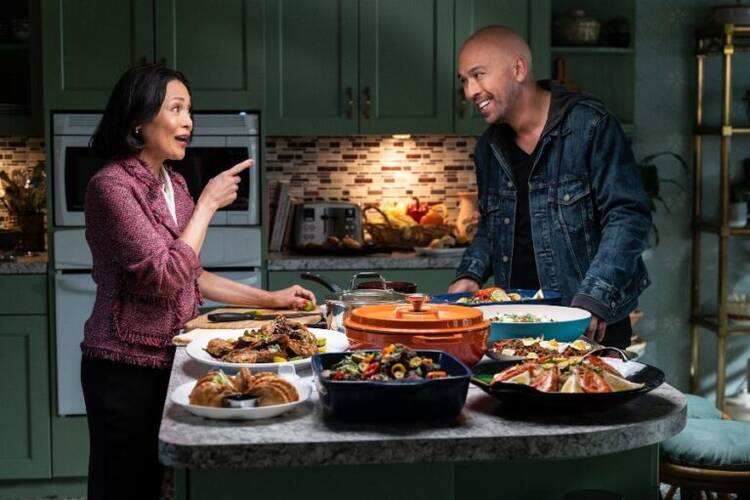 The last time I remember being so excited to see Filipinos on the big screen was a self-proclaimed teenager in the early 2000s and the coming-of-age movie "The Debut" was screened across the United States.
I proudly wore the promotional merchandise to school, a tight black t-shirt with the words "The Debut" scrawled across the front in white. The title refers to a cultural milestone in the life of a young Filipina – turning 18, a rite of passage celebration like a Sweet 16 or a quinceañera.
You've probably never heard of this movie, and that's understandable. It was never picked up by a major distribution company. Instead, a film directed by, produced by, and starring Filipinos had to organize a grassroots effort in order to be self-distributed.
The American public and Hollywood executives are still trying to fully understand what it means to be Filipino.
Not much has changed much in mainstream Hollywood since that time. Even with the release of the movie "Easter Sunday" featuring a full-fledged cast of Filipinos, it seems that no matter how much pride is behind the presentation of our Filipino culture, the American public, and especially Hollywood executives who finance movies, always trying to fully understand what it means to be Filipino.
"Easter Sunday" is an American comedy film starring Joseph Glenn Herbert Sr., also known as comedian Jo Koy, playing Joe Valencia, a struggling actor, comedian, and single father. The film centers on a gathering of his dysfunctional Filipino-American family on the Super Bowl Sunday of our cultural tradition, Easter Sunday.
Can you watch this! A film about upholding Filipino traditions, magnifying the sanctity of family, highlighting the Catholicism that is as much a part of our identity as eating with a spoon and fork instead of a knife and fork. Shouldn't we collectively, whether Fil-Ams (Filipino Americans) or Filipinos in general, rejoice that we have finally "made it" as the main protagonists of a major Hollywood movie? For the first time, we are not only playing supporting roles. We are not bound by characters who, based on our facial characteristics, could be classified as "generalized" Hispanic or Asian.
"Easter Sunday" celebrates Filipino traditions, the sanctity of family and Catholicism which is as much a part of our identity as eating with a spoon and fork.
I decided the best way to gauge reactions to the film was to gather feedback from none other than my own family. In particular, I would question family members who shared Koy's underlying conflict throughout the film: they did not choose a career path that would lead them to become, as many Filipinos do, a nurse.
For our elders, working in the medical profession was one of the guarantees of financial stability. Koy's choice to work in the economically precarious field of comedy and theater strikes at the heart of immigrant parents' greatest fear: that their child will not succeed in the United States.
My cousin Matt was born and lived 19 years of his life in Manila. He's an artist and community organizer who runs an alternative art space in my hometown of Houston called Alief Art House. "I'm conflicted," he said of the film. "As a Diaspora Filipino, the subject of representation is a daily task."
Koy's choice to work in the economically precarious field of comedy and theater strikes at the heart of the immigrant parent's greatest fear.
Matt focuses his community work and practice on the representation of Filipinos in the wider culture. "Being in the art scene," he said, "it's been hard to get support from Filipinos for a lot of reasons. One of them is accessibility. What art is accessible? Film. Filipinos love cinema. Filipinos love drama, color, romantic stories and especially comedy.
But Matt was conflicted about whether he should watch the movie, to the point where he even felt a sense of guilt. (It's also very on brand for Filipino culture).
"I feel tired of all the jokes that satisfy a cartoonish version of our people," Matt said. "I'm not really sure I want to revisit the same old jokes and stereotypes. We are already in 2022 and we still make fun of the accent.
Filipinos love cinema. Filipinos love drama, color, romantic stories and especially comedy.
Having seen the film myself, I understand. The desire to protect our culture from ridicule is understandable. Filipinos have depth. We have incredible stories of resilience. Ma Lola, or grandmother, for her part, rode a horse to rebel against the Japanese invasion of the Philippines during World War II.
She was the first person to introduce me to the statue of Santo Niño de Cebú, a representation of the Child Jesus who actually looks like a superhero in a red cape. In the "Easter Sunday" trailer, the statue of Santo Niño featured in the opening scene. I almost fell out of my seat.
Ironically, in the film, Koy's character Joe Valencia and his son Junior made the Santo Niño statue the center of a joke asking, "What the hell is that?" Seeing the film's characters question certain Filipino religious traditions was an honest take on how some Filipinos are Catholic simply by association; they may not really understand the faith they profess on Sunday and the culture that accompanies it. They keep going to church because their parents forced them to or because they didn't want to be burdened with guilt. It's relatable.
The desire to protect our culture from ridicule is understandable.
The idea of ​​seeing Filipinos portrayed in film as a way to showcase our culture to the general public resonated with my sister, Stephanie, who works in nonprofit education.
"I went to see on Easter Sunday because it was important to support a Filipino film," she said. "We went to see each other on the big screen for the first time in my life. Just hearing 'Ay Nako' in a movie was enough for me. ("Ay Nako" in the native Tagalog language, is equivalent to "Oh my goodness" in English.)
After watching the movie, my sister expressed her own inner conflict.
"To be honest, I had a hard time really committing to the movie," Stephanie said. "From a writing perspective, the script was jerky and hard to follow."
The storyline revolves around the aunts, or Titas, angry and upset with each other over a minor argument. Their anger nearly ruins the main event – the Easter Sunday dinner where the family was to gather and eat together.
"I found it ridiculous and uncomfortable to watch," Stephanie said. "And that's because there's something underlying the comedic attempt that's deeply rooted and triggering. This highlighted emotional underdevelopment and scapegoating in which aunts were unable to process difficult feelings internally, instead directing them outward through rage, blame, and triangulation.
I found the movie ridiculous and uncomfortable to watch.
My sister was one of the few family members I found who watched the movie when it came out. That was revealing in itself. "Easter Sunday" was released in the United States and Canada on August 5, the same day Brad Pitt's "Bullet Train" was released. In its opening weekend, the film earned around $5.4 million and finished in eighth place at the box office.
It's been a pretty rocky start, according to my cousin Jill, a rising Los Angeles-based filmmaker. She is currently working on a few films and expressed her gratitude for Jo Koy's debut. She also used it as a lesson for her own cinematic trajectory.
"It was a litmus test," Jill said. "Because Filipinos love him. He spins everywhere."
Why don't we go out in pilgrimage-style bus convoys to see this movie?
The fact that Jo Koy's target audience, those who buy tickets to his sold-out comedies or watch his specials on Netflix, didn't show up at the box office, was telling, she said.
"I was a little disappointed," Jill said. "I wanted to see people show up for Jo Koy because he's the biggest Filipino guy right now. It made me think that my movie would really have to get a lot of hype for Filipinos to show up.
Why don't we go out in pilgrimage-style bus convoys to see this movie? There is perhaps an ironic (but true?) answer to this: perhaps the target audience had to work night shifts in the hospital.
"I'm not entirely sure Filipinos feel compelled to support us in this way," Stephanie said. "Not on a large scale. We're bootleggers, get it on the cheap, and/or more forced to assimilate into American culture at the expense of our own, aka, 'Let's see the Brad Pitt movie instead.'
"That's why I think Jo Koy said, 'When the lights are off, we have no color. Poor thing, we are people of color," Stephanie said. "But I understand that this is only the beginning. Think of the first black actors in cinema. They were white people dressed in blackface. This is our introduction to the industry in a predominantly white mass audience.
My conversation with my sister and cousins ​​was my best takeaway from this experience. If what emerges from the movie "Easter Sunday" is a dialogue between Filipinos about what it means for us to finally have a seat at the table, I totally agree.
If we want to see more Filipinos in Hollywood, or any space, then everyone, Filipinos included, needs to be supportive. We have to show up even if we don't like the offer, at least for now.
"Right now in Hollywood," said Jill, the filmmaker, "everything is still very divided culturally. Eventually there will be a push where people will start to mix in movies and race doesn't really have a difference." This is when Filipinos will succeed.
Jo Koy opened the door to this reality. But unless Hollywood supports Filipino stories so the door stays open for us and our voices, Filipinos will be shut down instead of glorified, grounded instead of prosperous, stale instead of stars.
Ay Nako.