Kidscreen »Archive» Who bought what? The year in pubcaster microphones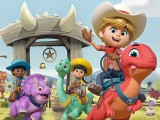 Here has Children's screen, we spend a lot of time talking to buyers about what content they want. But it's one thing to say you want to buy a certain type of show, and quite another to go find a BIPOC-directed comedy for six-year-olds that focuses on climate change. So, over the next five weeks, we're listing what the biggest broadcasters actually acquired, commissioned, commissioned, and lit in 2021 in this new Who Bought What series.
Judging by the shows that have been picked up by several public broadcasters around the world this year, a wide range of content resonates with their children and family audiences. Everything from puppies with blue heels to headstrong owls, transgender youth and Egyptologists were at the center of a mix of lively offerings and real action. Library content dominated with this group of buyers, but a few new IPs will hit the public service airwaves in the months and years to come. Here's a look at the children's content that was most in demand among ad broadcasters in 2021.
Preschool
Dino Ranch–This 3D animated series (pictured) from Toronto-based Boat Rocker and Industrial Brothers about a ranching family's encounters with prehistoric beasts is anything but extinct, considering the number of ad broadcasters this year. In Canada, CBC and its free French-language channel SRC premiered the show in January, before it made its way to Super RTL and TOGGO Plus in Germany, TVP in Poland and HRT in Croatia. Scandinavian broadcasters including NRK (Norway), YLE (Finland), SVT (Sweden) and DR (Denmark) also acquired the toon.
blue–Pubcasters couldn't stop falling for the humorous adventures of everyone and his family's favorite Aussie Blue Heeler puppy. Produced by Australian Ludo Studio and originally co-commissioned by ABC and BBC studios in 2017, this 2D animated series was acquired by UK broadcaster CBeebies in March, with Irish RTÉjr winning both seasons. (104 x seven minutes) in October for its VOD channel and platform RTÉ Player.
Odo–Produced by Belfast-based Sixteen South and Polish animation studio Letko, this selection from Cartoon Forum 2018 features a little owl attending a bird day camp. The 52 x seven minute toon took off this year, sold to German free channel KiKA, with secure presales for ABC (Australia), TVOKids (Canada), RTÉ (Ireland), SVT (Sweden), NRK (Norway), S4C (Wales) and VRT Ketnet (Belgium).
Gigantosaurus–Since its worldwide debut on Disney Junior, France Télévisions and Super RTL (Germany) in 2019, this flagship preschool adventure series from Paris-based Cyber ​​Group Studios has enjoyed a string of successes with broadcasters of pub. This year alone, NHK (Japan) and RTBF (Belgium) bought the rights to the first season, while RAI (Italy) and SRC (Canada) won the second season.
Where's Chicky?–It's been a big year for chickens on screen, and that trend was reinforced by numerous international sales for this short dialogue-free series from French studio Xilam Animation in September. In Europe, France Télévisions, YLE (Finland), NRK (Norway) and VRT (Flemish Belgium) all landed seasons one and two (104 x one minute), as well as a third season of 52 x one minute which was delivered earlier this month. Elsewhere, SRC (Canada) bought seasons two and three.
DinoCity–Riki Group and Animax Production's new 2D animated adventure series for preschoolers about a dinosaur family living in a modern city has struck many deals this year, with pay-TV rights going to MBC (MENA ) and ERT (Greece), Ketnet (Belgium) and TG4 (Ireland) obtaining free TV rights.
PJ Masks–Entertainment One's hugely popular preschool show about a trio of pajama-clad superheroes fighting villains has further expanded its reach, with ABS-CBN (Philippines) resuming its 52 x 11-minute debut season in June and RTV (Indonesia) acquisition season two. Since its world premiere on Disney Junior in 2016, the show has aired in more than 150 territories.
Pikwik Pack–Following the worldwide success of True and the Rainbow Kingdom, Toronto's Guru Studio Has Another Success In Its Hands With New Preschool Animated Series Pikwik Pack (52x11min). This year, the series about a team of animals delivering packages to residents of a small town joined the programs of Rai (Italy), YLE (Finland), Gloob (Brazil), TG4 (Ireland) and Mediacorp Okto ( Singapore).
The stories of the tree house–This Paris-based hybrid series from Dandelooo extended its roots worldwide in 2021, with sales in North and South America to HITN (US), TFO (French-speaking Canada), TVN (Chile) and Pakapaka (Argentina) in May. In Europe, TV5 Monde (France), RTS (Switzerland), ETB (Spain), ERR (Estonia), HRT (Croatia), RTP (Portugal), Ceska Televize (Czech Republic) and LTV (Latvia) also won the 103 x seven-minute program. Originally produced for Canal + by Dandelooo and the French studio Caribara, The stories of the tree house focuses on a group of friends who come together in a secret treehouse to share and learn about their favorite books.
Little Bear–Fifteen broadcasting agreements were signed in July for this 2D animated series about a courageous bear from the French prodco Supamonks Studio. New ad broadcasters who have purchased include BBC Alba (UK), TFO (Canada), Globo (Brazil), Czeska Televize (Czech Republic), RTVS (Slovenia), Pakapaka (Argentina), MTVA (Hungary) and LTV (Latvia). France Télévisions premiered the 39 x seven-minute comedy in 2020, and it has since aired on SVT (Sweden), YLE (Finland), SRF (German-speaking Switzerland), RTS (French-speaking Switzerland) and TV5 Monde (France).
Cangers–Coolabi Group's popular preschool series continued its global journey this year with the sale of seasons 1 to 3 (104 x 11 minutes) to the free channel KiKA (Germany); seasons two and three at Mediacorp (Singapore); season three to Ceska Televize from the Czech Republic; and the rights to free television and VOD for the first season of the Croatian channel HRT. Co-produced by CBeebies, Coolabi Group and Smallfilms, the stop-motion series features a group of problem-solving aliens.
Children
First day–Aimed at children aged five to nine, this GLAAD and international Emmy Award-winning series continued to increase its audiences this year with sales to France Télévisions and the Japanese advertising channel NHK. Created by Julie Kalceff, and produced by Epic in association with Kojo Entertainment, First day features a young transgender girl as she navigates her freshman year of high school. The four x 22 minute series originally premiered on Australian television channel ABC Me in March 2020.
Drones–This Cyber ​​Group Studios adventure comedy series about a team of kids racing drones continues to tour the world. The first season of the 52 x 22 minute animated series for six to ten years was picked up by ABC (Australia), RTBF (Belgium) and RTS (Switzerland), while WDR (Germany) landed the second season.
Odd squad–Toronto-based Sinking Ship Entertainment has garnered more buyers for its popular Emmy-winning STEM series about a team of young agents solving unusual cases. The BBC (UK), CBC (Canada) and ABC Australia acquired seasons two and three (114 x 22 minutes), while TFO (Canada) acquired the first season.
Dennis & Gnasher: unleashed!–Jetpack Distribution has signed agreements for the animated comedy from Beano Studios with France Télévisions (free -TV and VOD rights for season two) and Radio Télévision Suisse in Switzerland (free-to-air rights and free VOD for season two). Aimed at children aged 6 to 11, the 52 x 11 minute series traces the misdeeds of Dennis, his loyal canine sidekick and their group of friends.
Billy the Cowboy Hamster–Pubcasters were hot for hamsters this year, and pocket critters appeared with a lot of content. This particular series from the French animation studio Ooolala was highly regarded in Europe, with pre-sales at Super RTL (Germany), DRTV (Denmark), SVT (Sweden), RTS (Switzerland), NRK (Norway) and TV5 Monde ( France). Intended for four to seven, Billy the Cowboy Hamster (52 x 11 minutes) follows the titular hero as he lives out his dream of being a cowboy. In production now, the 2D animated series was commissioned by France Télévisions in 2019.
Presto! Magic school–It has been a magical year for TeamTO's 52 x 11 minute animated comedy, which was picked up by RTS (Switzerland), NRK (Norway) and Quebecor (French-speaking Canada). A selection from the Cartoon Forum of 2017, the series aired in March on M6 in France, featuring a group of children attending a school for aspiring magicians.
The Little Prince and his friends–This new 2D animated adaptation of The Little Prince by the Parisian production company ON Kids & Family and the Domaine de Saint-Exupéry-d'Agay has been picked up by France Télévisions, WDR (Germany), RAI (Italy) and Gloob (Brazil) ). In production now, the four- to seven-year-old toon catches up with the Little Prince as he sets off with two children from Earth on a space exploration adventure.
Elinor wonders why–PBS KIDS 'new animated adventure series (74 x 11 minutes) and its 55 minute special had a lot of global appeal this year, selling to Knowledge Network (Canada), YLE (Finland) and SVT (Sweden) . Produced by Pipeline Studios, the show stars a curious young girl learning new things about the world with her friends.
Tweens / teens
Theodosia–Time will tell if Cottonwood Media's new Egyptian-themed adventure series will be as successful globally as its hit series. Find me in Paris. But if sales so far are any indication, the book's adaptation is off to a good start. Scheduled for a premiere in 2022 on ZDF in Germany, Globo in Brazil and France Télévisions (as well as HBO Max worldwide), Theodosia stars one teenage girl who uses magical powers to find and eliminate ancient curses at the turn of the 20th century.