North Bend Gears Up For "Best Comedy Night Ever, Round 2"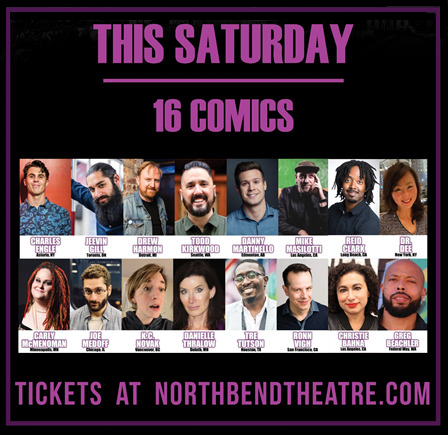 Sixteen comics battled for the top five spots in the first round of the 41st Seattle International Comedy Competition last Saturday night at the North Bend Theater.
After two hours of quick jokes that left the crowded audience breathless, the judges selected the best sets of the evening. Hailed by the public, these comics were recalled on stage:
1st) Sam Miller (Olympia, WA)
2nd) Josh Firestine (Tacoma, WA)
3rd) Bahiyyih Mudd (Yakima WA)
4th) Jesse Warren (Seattle, WA)
5th draw) Wyatt Cote (Long Beach, CA)
5th draw) Julian Fernandez (Walnut, CA)
5th draw) Matty Litwack (New York, NY)
"But wait," says Beth Burrows, owner of the North Bend Theater. "It doesn't stop there! The Seattle International Comedy Competition is an important event in the world of comedy. Sixteen comics are just the start. Sixteen more will compete next Saturday. And they bring their best material.
Saturday's competition will be the second round of preliminaries. The comics on this tour include a single dad raising two kids, an American trapped in Canada, and a guy with really nice hair. A good time is guaranteed!
The Seattle International Comedy Competition is America's largest traveling comedy festival. Throughout the month of November, 32 comedians stroll through Puget Sound, vying for $ 15,000 in cash prizes. All seven comics from round one will continue into the next round, vying for a spot on the final night of the competition at Laugh's Comedy Club in Seattle's University District.
Tickets go fast! Check availability online at northbendtheater.com
A reminder that the vaccine proof or negative results of the Covid test will be checked before entry. As a hometown theater recovering from the effects of the pandemic, we really appreciate your kindness.
Related