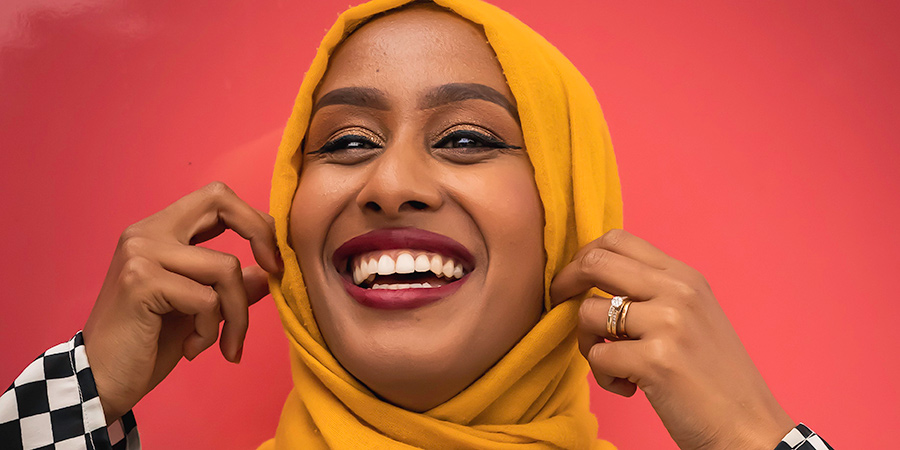 A random actor, eight random questions; this is the ultimate test of the funny person and fate. This week we welcome Ola Labib, who has quickly made great progress on the circuit. But next week it's all about the wheels.
Labib occurs at Jokes and speeches on Tuesday 7th a fundraiser for The Bike Project, a London / Birmingham-based charity that repairs used bikes and donates them to refugees. Brilliantly simple. This star-studded show takes place at the legendary Comedy Store in London and also features Simon Brodkin, Olga Koch, Tiff Stevenson, Stuart Laws and MC Jen Brister.
Nice – and they offer both live and online tickets, which seems reasonable these days. So how did Ola find the return to concerts in person?
"I can't describe the excitement of being able to do live shows again," says the increasingly busy comic. "Seeing an audience and feeling their energy gives me such a boost, and I love to share my message with everyone."
Enthusiasm. Ola Labib, your Random 8 is waiting for you.
Who is (or was) your most interesting parent?
My grandmother (my father's mother). As far as I can remember, she had a little wooden box under her bed and she kept all the things she wanted to be buried with in that box. I wore Britney Spears perfume once and when I sat next to her she said I smelled good and asked if she could keep the bottle to put in her box so she could to be sprayed with it when she died …
Which historical figure should gain more attention?
Thomas Beecham. He got a lot of people out of "shit" situations. He invented the first laxative in the UK in 1924. I can imagine that put a lot of strain on hospital gastroenterology departments, on GPs and on people's bowels.
What's the strangest thing you've ever eaten?
The lining of a goat's small intestine – raw – topped with fresh bile from the goat's gallbladder, peanut butter and fresh chili. Please note: I had no idea what I was eating until after. It was chewy and bitter … but I loved the peanut butter with bile.
What discrete law would you introduce?
No cheese tax.
What's the best thing you've bought a ticket for?
I paid £ 1.50 to watch my little brother play in his school nursery when he was six. He told me he had a main part of the Bible … he was the Christmas Alien. I didn't have to be careful during religious teaching.
Which book should we all read to make life a little better?
The Hobbit. Because no matter how ashy, callused and hairy your feet are, you will always find what you are looking for.
What's the worst thing in your wardrobe?
OK, personally I don't think it's the worst, but I have this yellow sweater that I bought for a five in 2011. Love it. I wear it, to work and to sleep. I refuse to get rid of it. I have to hide it because all of my friends and family want it burnt because they're sick of seeing it … and smelling it? It is my guilty pleasure.
Which place you visited had the greatest anti-climax?
Wigan. I thought it was gonna be bad … it turns out it was REALLY bad.
Ola Labib appears at Jokes and speeches at the Comedy Store in London on Tuesday December 7th. Info & tickets
---