Romesh Ranganathan becomes new host of A League Of Their Own – News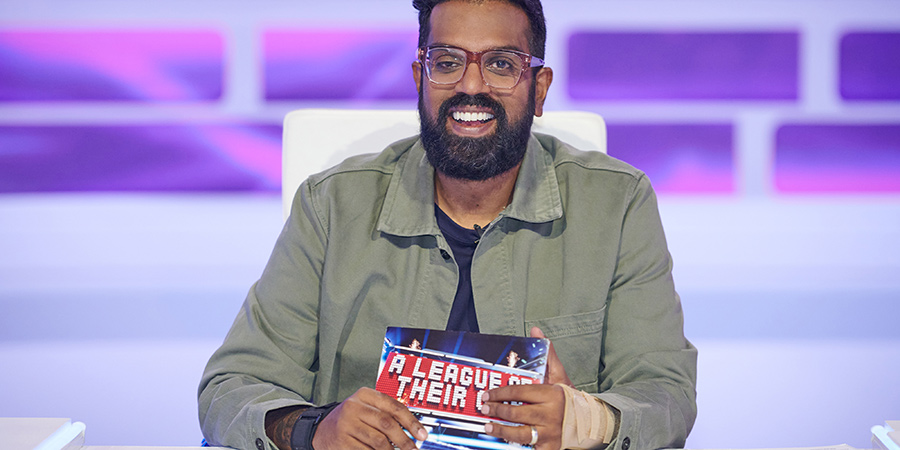 BCG
TV
New
Romesh Ranganathan welcomes OLOTO
A League Of Their Own Series 16 kicks off on Sky One in August, with Romesh Ranganathan as host
Having guest featured episodes of the last series, Ranganathan now officially takes over from James Corden
Romesh says: "I can't wait to be back in the studio with Jamie, Freddie, our guests and the live audience"
Romesh Ranganathan succeeds James Corden as host of Sky One's A League Of Their Own.
The sports-based panel is set to begin filming on its sixteenth series, with producers confirming that – due to continued work commitments in America – Corden is now stepping down as host.
Corden last hosted Series 13 in 2018. Series 14 in 2019 was hosted by guest presenters, with Series 15 last year being presented primarily by Ranganathan. Now, it will previously feature all eight episodes of Series 16.
Sky confirms: "Romesh has been a regular panelist on the BAFTA-winning show since 2018 and will bring more of his dry wit and unmoved stance to the proceedings."
Speaking of the new episodes, the producers say, "Longtime team captains Freddie Flintoff and Jamie Redknapp are returning to face each other again this summer. This year's guests include FA Cup winner Jamie Vardy, medalist Olympic gold medalist Denise Lewis and football specialist Micah Richards with many other sports and entertainment stars to be announced. "
Romesh Ranganathan said: "I am delighted to take over the hosting functions and look forward to being back in the studio with Jamie, Freddie, our guests and the live audience. I am truly honored to be the new host of such a successful show. I know Jamie and Freddie are thrilled because they often talk about the hero that I am to both of them. "
Filming for A League Of Their Own Series 16 begins at Elstree Studios on July 5, with a socially distant audience in attendance.
All eight new episodes will air on Sky One starting in August.
It's a busy year for Ranganathan. It was announced on Wednesday that he will present a hip hop series on BBC Radio 2 in August, while yesterday the new BBC Two show Romesh Ranganathan's erroneous investigations has been revealed.
Rob And Romesh Vs is set to return to Sky One in July for the Olympic specials, and The Ranganation – the comedian's topical show he recently won a BAFTA for – is also set to return later this year.
---
For updates, click the button below.