Simon Evans and Dominic Frisby join GB News, presenting Headliners – News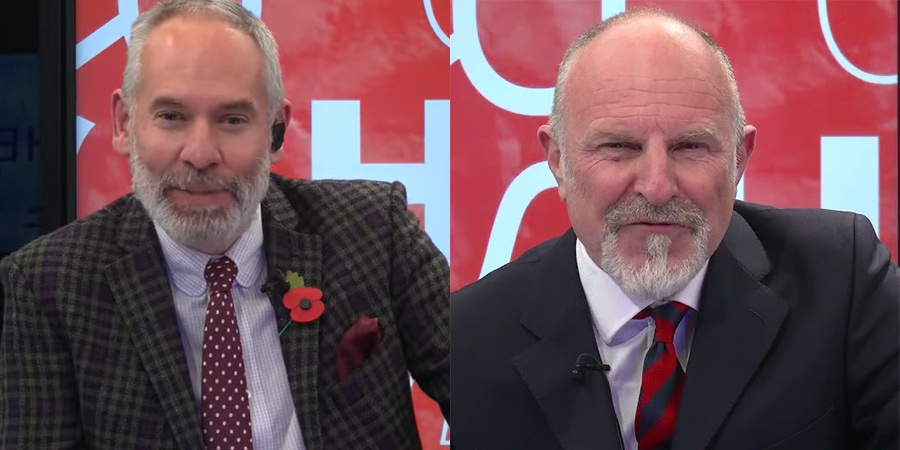 Dominic Frisby and Simon Evans on GB News
Simon Evans and Dominic Frisby present a new show for GB News.
Stand-ups alternate with accommodation Headliners, a late night review of the next morning's newspapers with two guest comics.
Designed as a lighter, funnier alternative to the review established by journalists from BBC News and Sky News, the hour-long show launched on Monday. So far, guest experts have included Rhona Cameron, Ian Stone, Leo Kearse, Josh Howie, Timandra Harkness and Nick Dixon.
Billed as "a new show where comedians watch the news tomorrow tonight" by Evans, star of Radio 4's longtime economics study Simon Evans Goes To Market, and "a chance for you to squeak teeth 12 hours earlier "by comedian and financial reporter Frisby, Headliners features the panel dissecting the front pages of the day as well as more sparkling articles from inside newspapers and social media.
Wednesday's edition, hosted by Frisby, featured Kearse commenting on John Cleese's decision to withdraw or "blacklist" from a speech at Cambridge University, after the historian of the art Andrew Graham-Dixon was banned from speaking at the Labor Debate Society for a parody of Hitler.
Broadcast at 11 p.m., Headliners takes an hour of the existing Tonight live with Dan Wootton schedule and is the last comedian-featured GB News show since the channel launched in June, following Titania McGrath creator Andrew Doyle's weekly current affairs chat. Nation of free speech and Tonight live with Mark Dolan featuring the former Balls of Steel presenter.
Seen as an alternative to mainstream media, GB News has lost its figurehead Andrew Neil as a presenter amid tough hearings and mockery of his technical issues, but retains prominent faces such as the former chief from UKIP and the Brexit Party, Nigel Farage.