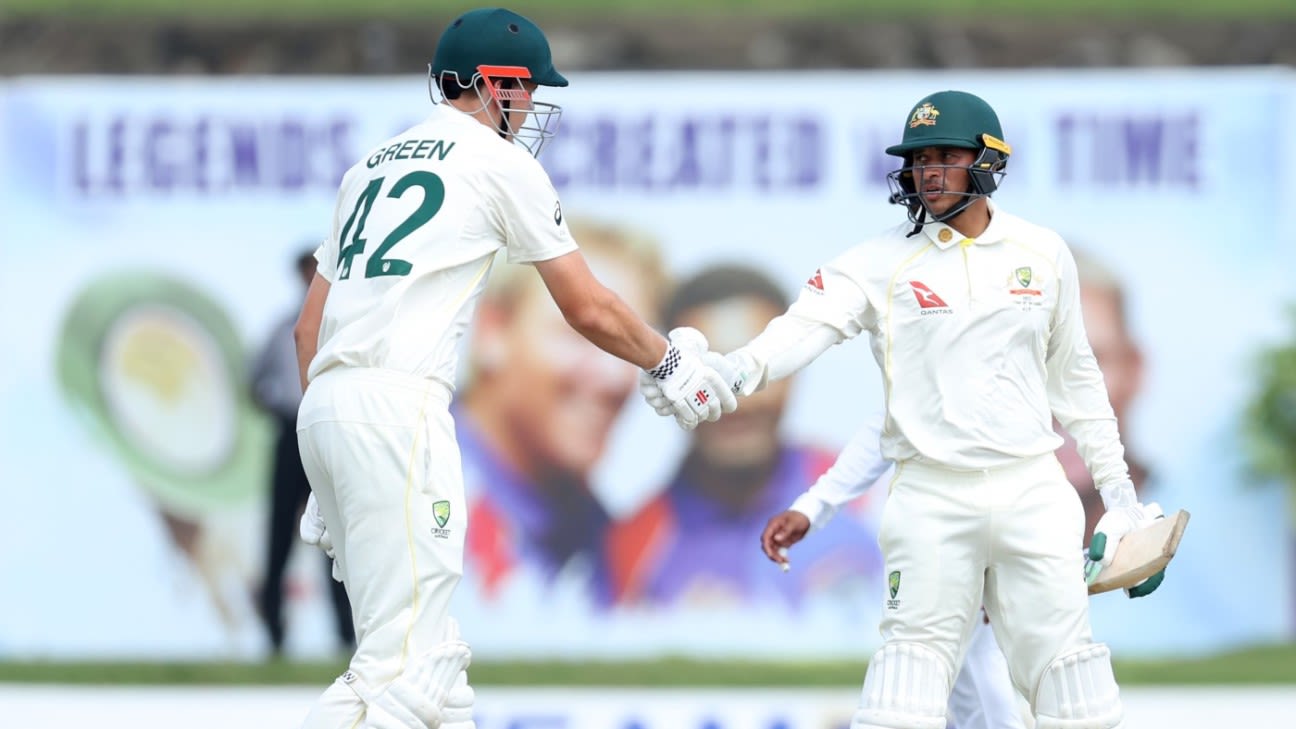 The last time Usman Khawaja played a Test in Galle, he opened his second set by shouldering the arms of offspinner Dilruwan Perera. The ball jumped happily into that unguarded stump, like an inmate who couldn't believe the jailers had left the prison doors wide open.
Earlier that same day, Khawaja had been absent for 11 years, played by Perera of course, and by a live of course – the first punchline in a series that took its comedy from Australia by failing to face balls that didn't actually spin.
But this Khawaja is not this Khawaja. And this series is not that series. Khawaja is a world hitter now. This year he made 97 in the pulaofest of Rawalpindi, 160 and 44* in the biryani home that is Karachi, and 91 and 104* in Lahore, those majestic stone buildings in the distance. He did it elsewhere in Asia, where the ball is spinning a bit and the pitches wear out faster than at home. But can he do it on a pitch that is a dust fest from day one in Galle?
Turns out he can.
Khawaja was not a clear round. Unless you have supernatural skills, there are no such rounds in terrains like this. He was beaten, several times. Late on the first day, when he was in his thirties, he went down the track and missed a ball that popped into the keeper's helmet – a tough miss stumping, but a missed stumping nonetheless.
And yet the sweeps kept coming, two big efforts reaping the boundaries, the delicate paddles winning runs behind the square. Reverse sweeps were also on display, with at least one of its four legs coming from this shot. Waltz down the track and pass it halfway. Stay back, read it early, cut past the point. In defense, he pledged to cover balls that might hit the stumps. And when the clinging balls passed by his side, he shook them off. Bullets that don't hit anything can't take you out. He found a way to survive. And he found ways to score.
He was not the only one. In fact, he wasn't even the most effective hitter in Australia's opening innings. Cameron Green, at first glance, does not seem the most suitable of the Australian range for fast-cornering surfaces. It's so big it almost needs a clearance from air traffic control to descend far enough to perform a sweep. It's a shot he played occasionally, but wisely, but where he rather thrived was while running over Sri Lankan spinners, frequently clipping spinner Ramesh Mendis with the leg side bend.
When he stayed in the crease, he made sure he parked his big front pad, leaps and bounds, along the track, so the balls that were heading for the stumps would hit him outside from the line, and the balls that hit it in line, were probably going to spin too far to threaten the stumps. It was not an available strategy for a hitter of Khawaja's size. It was Green finding his own ways to survive; his own ways of scoring.
There was also Alex Carey, whose innings seemed to consist almost entirely of sweeps and reverse sweeps, with no points on the ground. He made 45 from 47. Green had the best score with 77 from 109. Their sixth-wicket partnership of 83 was the backbone of Australia's lead on day two, which they completed 101 runs in front, with two wickets in hand.
"The way we play the game and talk about the game has changed a lot since I started playing for the Australian cricket team," Khawaja said at the end of day two. "We've learned from our mistakes, and the guys are all confident in their plans and able to adapt to different situations, and that's different to how we do it in Australia.
"Guys like Carey come in and sweep. Even me growing up in Australia, one in two coaches would tell me not to sweep. But it's a very natural shot, and Carey exploits it as much as anyone."
This was all helped by an inexperienced spin attack from Sri Lanka, which was too easy to hit, unable to deliver a single maiden between them (dressmaker Asitha Fernando threw the only maiden sleeves), largely because they often take the wrong line.
But after looking like they were more likely to vomit on this Galle ground than play good innings on it the last time they were here, Australia have gotten some serious skills on these surfaces. Commit to a batting plan. Don't worry about bullets getting the better of you. Find your own way to score. All of this saw them take control of a tough test on Thursday.
Andrew Fidel Fernando is ESPNcricinfo's correspondent in Sri Lanka. @afidelf