Travis Jay – First gig, worst gig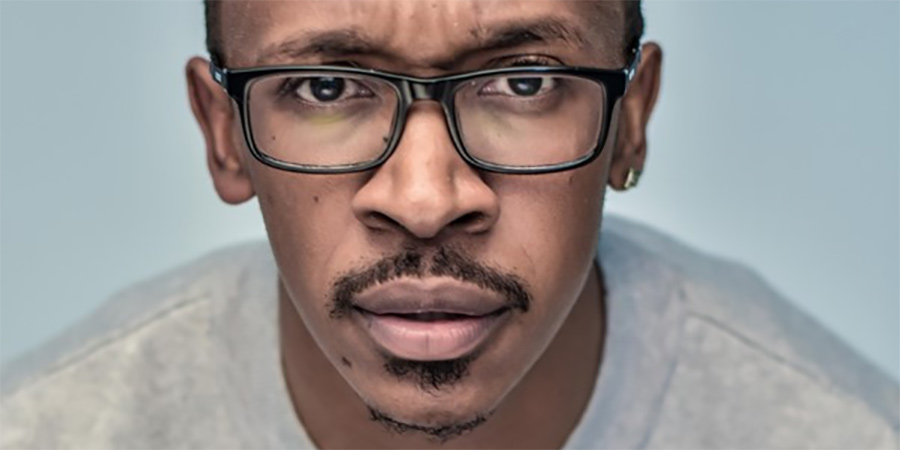 BCG
Live
Characteristics
First gig, worst gig
Travis Jay
We're all on big shows here at First Gig, Worst Gig – the clue is in the title – and Travis Jay is a week away from a big in his booming career. Next Friday, the 12th, the stand-up and hard-hitting podcaster takes over London's Bloomsbury Theater, for the next step in his stage work.
"My new show gives the impression of having taken a step forward as a comedian," he says. "I've been a comedian for quite a while now and I feel like something has changed for me. I need full transparency with my audience at this point and this show will be my most honest so far. 'now."
Jay is no stranger to mixing comedy with heavier topics – outside of the stage, he's appeared on Late Night Mash and writes for Spitting Image – and his live work has been praised by everyone, from the judges of the festival to Dave Chappelle.
"I feel like my voice has always, directly or indirectly, leaned towards serious topics," he says, "and I tend to see light topics and deep, serious topics the same. Comics like Richard Pryor that can attack tragedy and find comedy have always made me admire this skill. "
Now, back to an even bigger date in Travis Jay's timeline: his debut.
First concert?
It was May 24, 2009 at Slug and Lettuce on Wardour Street. I was absolutely bricking it! I was so nervous, my hands were shaking and I continued to spin my set while waiting to be presented on stage.
A comic called Littleman introduced me and I'll never forget it. He said "Are you ready for a joker? Well, we've got a joker coming on stage!" and I heard that and I thought "that sounds a little offensive …" My first gig and I was already annoyed by something!
I remember it had gone really well, but I don't know if I would have felt it had gone really well if I had watched it today. Anyway, I look back on that date with a smile.
Favorite show, ever?
I should probably say the first gig I had to play with Dave Chappelle. It's a comic that inspired me more than any other, and I was a fan of it before I considered getting involved in comedy. It was a phenomenal moment!
The worst concert?
I had a gig at the Camden Center, probably about five months after doing stand-up. I won a contest at Angel's Cottons Comedy Club, and the prize was part of the Camden Center lineup where I was presented with a trophy.
My set just didn't hit the audience at any point, but despite that, I remained resilient. I thought my next joke would get them all right! In the middle of my last joke, they started to clap. At first I thought, "Oh, I finally got them! », But the applause was not in sync with everything I was saying and I quickly realized that they were applauding me!
I finished my set like it was a killer – at that time I couldn't address the elephant in the room, so I just stuck with my script. Host Robbie Gee (from The Real McCoy) came over and handed me my trophy for winning the competition at Cottons. All I could think of was 'this crowd must be thinking' who the hell did he beat to be the winner? "
Who has most influenced your life as an actor?
I have to say my mom Angie Le Mar. She is one of the pioneers of black comedy in this country and I was very lucky to have her in my corner. She has spoken very candidly about what needs to be done to last in this game – her mantra is "Get the job done". Don't take shortcuts, do the hard work! '
A lot of people would imagine that we would write material together or that she would write material for me sometimes, but she always said to me, "You have to go out there and experience it. I can't go there for you. , I can't take care of rowdies for you. You have to acquire the skills! "
And who is the most disagreeable person you've met in the business?
Ah man, where to start? You know I've met some real assholes in this game, I don't think anyone stands out as number one, but I've matured beyond responding when someone wants to be a jerk!
Is there a routine / gag that you liked that the audience inexplicably didn't have?
I had this disposable piece in my very first set where in the middle of the story, I said "I looked at the time and it said 12:34!" Now, I don't know about you guys, but when I see the time say 12:34, I always whisper to myself "oooh, 1234". ' Now, I loved saying this material, but the crowd was almost always like "what the hell is …?"
How did your confinements go, in general and creatively?
Creatively, it became a struggle. I was on tour with Kojo Anim (winner of the Golden Buzzer of BGT) at the time and he was cut short due to Covid. We went from one extreme to the other: running across the country playing and having a good time until we were suddenly confined to the house.
I was grateful for the rest, but quickly got bored that I couldn't play. I got creative with a few pieces of online content, but I miss the stand-up more than ever.
On a personal level, I enjoyed the family time I was living. It was very unusual with the way my schedule is set up, but the fact that we all spent there made it easier to manage.
Any criticism, heckling or post-concert reactions come to mind?
I tend not to pay much attention to reviews at this point. Social media has given audiences a voice of their own, so I'm looking to hear from people. This guy once heckled me with interview questions, and it was so weird because he wasn't rude, he was just curious! My set before that was going well, but my answers to his questions were getting more and more fun, so I just allowed him to become "an audience with Travis Jay".
What do you think of the current state of your career?
I am very optimistic about the future. I feel like personal growth is starting to show in my career and I am very excited to continue in this direction.
I used to feel the pressure of my career, I needed to get to a certain place at a certain time, but now I just embrace the journey and give my all to seize the opportunities that arise. I'm happy, but I really want to level up and be the best Travis Jay I can be.
Some people have supported me throughout my 12 year journey and I owe it to them to continue to grow, improve and continue to deliver!